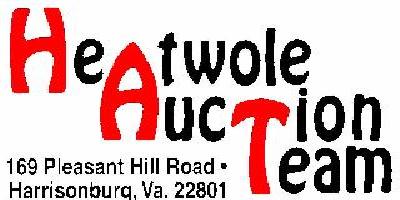 Your Full-Service Auction Company
Bidding, Buying & Glossary
Upcoming Auctions
Antiques, collectables, autos, Longerberger baskets and more. See what's coming up.
Bidding & Buying at Auction
It doesn't take any special skills or training to come to an auction, but we do have some tips to help maximize your good time. Please contact us if you have any questions.
Click the tabs below to learn more:
When you plan on going to an auction, it pays to be prepared. Here are some tips for before the auction starts:
Do your homework:
Read the auction advertising carefully so you know what's being sold and can preview the conditions of the sale
Contact the auctioneer with any questions. Heatwole Auction Team can be reached via email at hatco@rica.net or by phone at 540-433-2929
Learn the Auction:
Arrive early. It's easier to get a good look at the items for sale (all items sell as-is) before the crowds arrive. Usually the time for inspection is mentioned in the ad and generally 1 to 2 hours before the auction is expected
Get a bid-number as soon as you get there. You'll be ready to bid once you have it
Read through the conditions of the sale written on the back of your bid-number
Jot down the items you are interested in (there's room on your number), along with your maximum bid
Take some time to talk to the auctioneer and ask your questions about individual items, their history and their value. You'll also be able to ask if any items have reserve bids, learn sale conditions and get personal check/payment policies
If you have a special bid signal, tell the auctioneer what it is so he can watch for it
Once you've got in mind the items you want and the price you'll pay, you're ready to bid. Some people get very nervous about bidding at auction, but you'll be fine if you follow these tips:
Find a good spot:
Make sure you are in full view of the auctioneer
Be sure to not be too close or too far away from the auctioneer
Try to stay in same location throughout the bidding on a particular item
Make your initial bid
Pay attention. Nothing worse than 'missing' that coveted item. Also, it's not good to find out too late that the bid price is not the final price, but rather will be multiplied by the number of items in the set.
Don't be timid with that initial bid! The easiest bid to see is when the bidder holds his hand up high, bid-number in hand (you can also raise your hand)
Don't wait for the lowest possible starting bid. Why? This can invite competition which might never have entered at a higher starting bid
Continue Bidding
Once you have the auctioneers attention, subsequent bids can be made by a slight nod, hand signal or other movement
Don't hesitate or slow down your bidding, or the auctioneer will start looking for another bidder and you may lose out!
You got it! Now what?
Remember these guidelines:
When the auctioneer declares an item "SOLD", it is, from that point forward, yours. As such you are responsible if the item is subsequently lost, damaged or stolen. (note that you cannot remove the item until it is paid for)
Remember that you buy things as-is and where-is. You are responsible for inspecting items before buying them and you are responsible for moving your items from the auction
If you're not satisfied with the condition of an item, or feel it was misrepresented, let the auctioneer know IMMEDIATELY. Items can be damaged during the preview without the auctioneer realizing. Keep in mind though, the auctioneer has no obligation to take the item back and may refuse to do so. (again, all items sell as-is)
Have your tax ID number handy if you're a dealer – you'll need it if you want to buy tax-free
Here are some terms you may hear at an auction:
Absentee Bid: A bid left with the auctioneer before the sale by a buyer who will not be present (sometimes called a book bid)
Advance: The amount by which the bid continues
Buyers Privilege: The buyer gets the opportunity to buy several identical lots at the same price he paid for the first one.
Box Lots: A box of assorted items that are dissimilar or inferior put into a box and sold together
Clerk: Personal responsible for recording what was sold, for how much and to whom.
Consignment Auction: An auction consisting of several person's merchandise
Knocked down: Sold
Reserve: The minimum price the consigner will accept
Unrestricted Sale: An auction with no minimum or reserves, all merchandise is sold.