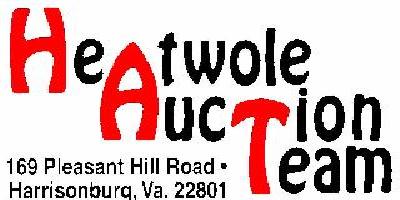 Your Full-Service Auction Company
The Heatwole Auction Team Advantage
Upcoming Auctions
Antiques, collectables, autos, Longerberger baskets and more. See what's coming up.
Our Auctions
Bidding & Buying at Auction
The Heatwole Auction Company is a family-owned business that has been operating in the beautiful Shenandoah Valley since 1939. Dick and Rick Heatwole, your top-notch auctioneers have a combined history of over 55 years in the Auction business.
G.R. Dick Heatwole has been in the auction business for over 40 years

Dick has served as past president of the Virginia Auctioneers Association (VAA) and has been recognized as Auctioneer of the Year and a member of the Hall of Fame.

Rick Heatwole, his son, has been in the auction business for over 15 years

Auction experience ranges from real estate, personal property, farm equipment and antique auctions to business liquidations and catalog sales

Background working for bankruptcy courts, bank trust departments, local and out-of-state attorneys, administrators, executors and estates

H

eatwole Auction Team is licensed and bonded in Virginia and West Virginia
When you select an auctioneer, we know you want someone you can trust — someone with the background and knowledge to handle your auction expertly and effortlessly. With Heatwole Auction team, you'll get just that.
Dick is a graduate of the Certified Auctioneers Institute
Rick is a graduate of Mendenhall Auctioneers School
Both Rick and Dick belong to the Virginia Auctioneers Association and National Auctioneers Association (NAA)
Dick holds a Virginia Associate Real Estate Brokers License and holds continuing education credits from James Madison University
Rick is a Certified Estate Specialist (CES)
Heatwole Auction Team does what you can't do on your own. We get your items out to the most potential buyers. We do this through our established network and by utilizing our diverse advertising background.
Multiple mailing lists target the right audience to your auction
Weekly auction attract antique dealers, collectors and auction-enthusiasts to view your items
Website with over 3,000 hits per week
Advertising connections with the Daily News Record and other prominent newspapers
For most of us, the bottom line is that we want outstanding customer service. And, in a world where that is becoming more and more a thing of the past, Heatwole Auction Team offers you the full-service and friendly, accommodating service that you're looking for. Our service is more than just that on the day of your auction. We manage your auction event from start to finish.
Before the sale
Free consultations including appraisals, auction-readiness evaluations, location recommendations and cost-estimates (for auction service & advertising)
Customized advertising plans designed to highlight your items and get the right buyers to your auction
Marketing and advertising via multiple mediums (as determined by your advertising plan)
Arrangement of food service and portable toilets, if needed
Taking calls and answering customer-questions – so you don't have to!
During the sale
Easy-on-you auction day set-up including labeling items (if needed), site set-up and handling of parking arrangements
Professional staff including auctioneers, ringmen (to hold up items during the auction), clerk (to record auction transactions) and cashier (to take money)
And after the sale
Quick and easy post-auction settlement
Electronic records of all sales, buyers and prices
Financial arrangements handled by auctioneer
Our Commitment To You
Reliable- We are dependable and you can count on us
Responsive- We act quickly to help you with your Auction needs
Empathetic- We Listen to you and are sensitive to your needs
Competent- We are equipped with the skills and knowledge to help you
__________________________________
Certified Estate Auction Specialists
Sell the Personal Property and Real Estate at Auction
Whether the contents need to be cleared from a home to prepare for sale and the house sold, a maturing family is moving into a smaller residence and needs to downsize, or the homeowner is going into managed care, Heatwole Auction Service and Certified Estate Specialists removes the hassle, uncertainty, and frustration from the process for you, your client or loved ones by liquidating everything in the house and the house for the greatest return in the least amount of time and expense.
With a minimum of involvement on the part of you, your client or loved one, Heatwole Auctions will take charge of the property and liquidate it where it sits or at our auction facility. The house can be clear and ready for the next step in your strategy in as little as one day. We will organize the contents and market it to its best advantage. Inventory and appraisal services are also available.

Heatwole Auctions staff is experienced working with Estates, Trusts, and Conservatorships.

As an executor why would you trust just any auction or estate sale company to sell the personal property and the real estate. We are educated and credentialed in the best practices of estate settlements.

HEATWOLE AUCTION IS THE CUTTING EDGE SOLUTION FOR ANY ESTATE LIQUIDATION

Heatwole Auctions is an Internet driven business with a high profile web presence. We will publish hundreds of photos on our web site of the items to be sold. We draw the buyers, we will convert your assets ASAP.


Initial consultation and evaluation is free. Call today for an appointment at 540-433-2929 or Rick Heatwole directly 540-435-9320 mobile.

Heatwole Auction is licensed, bonded, and insured. We take the stress out of your decision in choosing the best qualified and most reputable auction company. Best of all, everything will be sold by the end of the day.
Learn more:
Call Rick or Dick Heatwole for a free assessment 540-433-2929 or email Heatwole Auction at hatco@rica.net