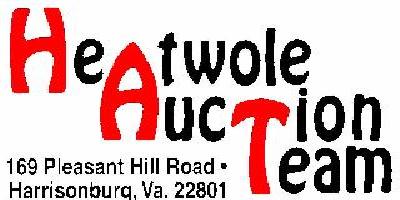 Your Full-Service Auction Company
Our Auctions
Bidding & Buying at Auction
Auction
Overdue Storage Units
Valley Self Storage
14 Whistle Lane
Weyers Cave, Va. 24486
June 6th @ 5PM
Cash or Approved Checks
<![if !vml]>

<![endif]>
| | |
| --- | --- |
| 1995 FORD F-150 | VIN# 1FTEX15NXSKB89114 |
| 1994 Chevrolet Baretta | VIN# 1G1LV15M7RY131451 |
| 1995 Saturn | VIN# 1G8ZH5286SZ347387 |
| 2006 Eton Moped | VIN# X51P390MB08900073 |
| 1992 Mitsubish Eclipse | VIN# 4A3CS44R3NE060143 |
| 1994 Ford Taurus | VIN# 1FALP524XRA164133 |
| 1988 Chevrolet S/W | VIN# 1G1BN81Y3JA105892 |
| 1989 Toyota Camry | VIN# 4T1SV21E2KU013825 |
| 1978 Ford F-250 | VIN# F26SEAG5253 |
| 1996 Ford Taurus | VIN# 1FALP52U9TA111706 |
| 1999 Toyota Corolla | VIN# 1NXBR12E2XZ258841 |
<![if !vml]>

<![endif]>
| | |
| --- | --- |
| 1995 FORD F-150 | VIN# 1FTEX15NXSKB89114 |
| 1994 Chevrolet Baretta | VIN# 1G1LV15M7RY131451 |
| 1995 Saturn | VIN# 1G8ZH5286SZ347387 |
| 2006 Eton Moped | VIN# X51P390MB08900073 |
| 1992 Mitsubish Eclipse | VIN# 4A3CS44R3NE060143 |
| 1994 Ford Taurus | VIN# 1FALP524XRA164133 |
| 1988 Chevrolet S/W | VIN# 1G1BN81Y3JA105892 |
| 1989 Toyota Camry | VIN# 4T1SV21E2KU013825 |
| 1978 Ford F-250 | VIN# F26SEAG5253 |
| 1996 Ford Taurus | VIN# 1FALP52U9TA111706 |
| 1999 Toyota Corolla | VIN# 1NXBR12E2XZ258841 |
<![if !vml]>

<![endif]>
| | |
| --- | --- |
| 1995 FORD F-150 | VIN# 1FTEX15NXSKB89114 |
| 1994 Chevrolet Baretta | VIN# 1G1LV15M7RY131451 |
| 1995 Saturn | VIN# 1G8ZH5286SZ347387 |
| 2006 Eton Moped | VIN# X51P390MB08900073 |
| 1992 Mitsubish Eclipse | VIN# 4A3CS44R3NE060143 |
| 1994 Ford Taurus | VIN# 1FALP524XRA164133 |
| 1988 Chevrolet S/W | VIN# 1G1BN81Y3JA105892 |
| 1989 Toyota Camry | VIN# 4T1SV21E2KU013825 |
| 1978 Ford F-250 | VIN# F26SEAG5253 |
| 1996 Ford Taurus | VIN# 1FALP52U9TA111706 |
| 1999 Toyota Corolla | VIN# 1NXBR12E2XZ258841 |
<![if !vml]>

<![endif]>
CANCELLED
Valley Self Storage
PURSUANT TO THE CODE OF VIRGINIA TITLE 55-416, THE SELF SERVICE STORAGE ACT
THE UNDERSIGNED WILL SELL ON THE PREMISES CONTENTS OF SEVERAL STORAGE
UNITS INCLUDING BUT NOT LIMITED TO THE FOLLOWING UNITS :
406, 564, 571

- AND OTHER OVERDUE UNITS

COMPLETE UNITS ONLY
TERMS - ALL CASH. ALL UNITS SUBJECT TO REDEMPTION PRIOR TO AUCTION. LIEN HOLDER WILL SELL ALL UNITS AS COMPLETE UNITS. A $50.00 REFUNDABLE CLEANING DEPOSIT WILL BE REQUIRED ON EACH UNIT FROM ALL PURCHASERS.
Valley Self Storage, LIEN HOLDERS